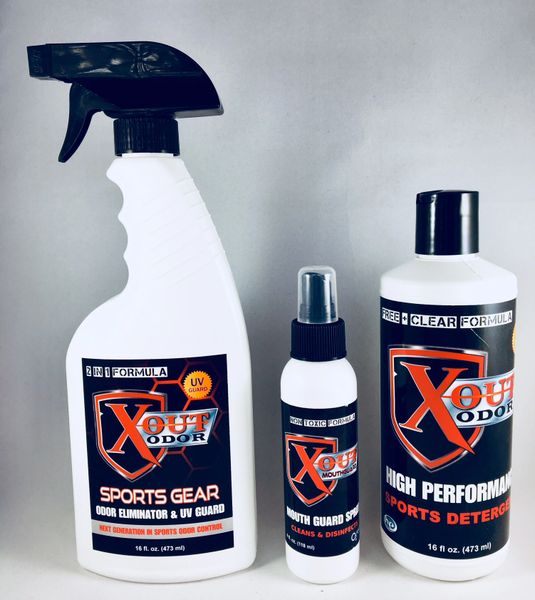 X-Out Sport Pack
X-Out Sport includes 1 bottle of our X-Out Odor Sport Spray, Laundry Detergent and X-Out Mouth Guard Spray. This pack was designed for all athletes to control their sports funk and to keep their sport mouth guards clean and disinfected. 
X-Out Sports Funk with Our X-Out Odor Sports Detergent formulated to kills odors at the bacterial level.

Also Adds a UV protective barrier on fabric fibers to prevent premature sun fading of garments.

Kills harmful odor causing bacteria and sweat molecules from fabric pores

X-Out Mouth Guard

 is Dr. formulated to allow an athlete to cleanse and remove bacteria from their mouth guard. Athletic mouth guards are the most neglected when it comes to cleaning. This causes harmful, dangerous bacteria to grow if they are ignored. According to a study published by American General Dentistry, mouth guards can harbor life-threatening bacteria, yeast and mold. Germs found in mouth guards can lead to strep and staph infections and many other dangerous virus causing bacteria.
Reviews